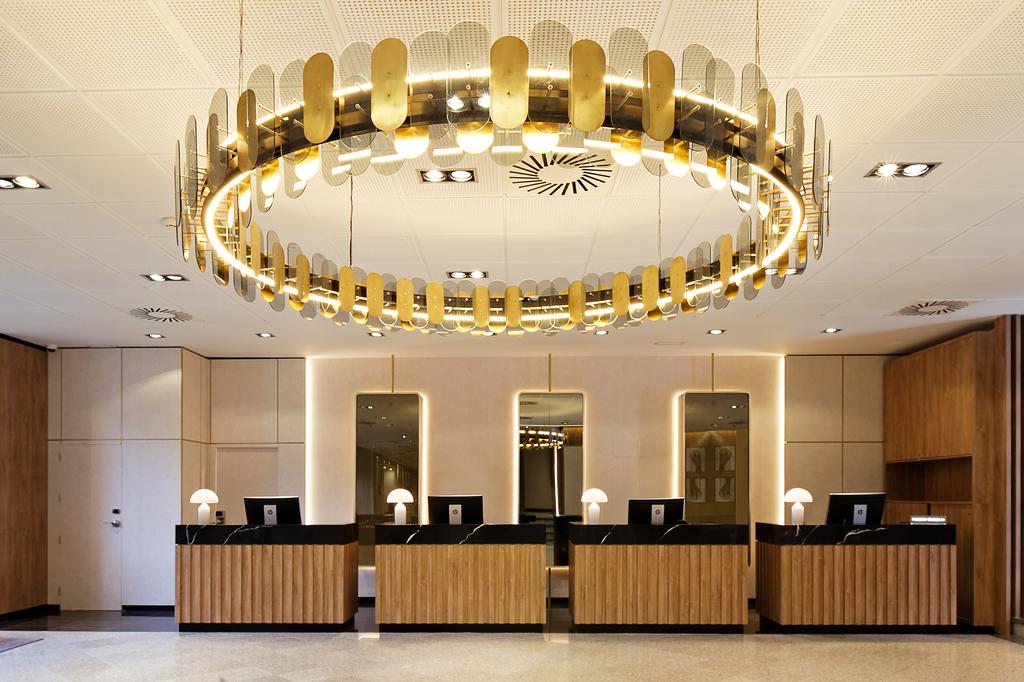 28 Feb

Meliá America Avenue & Viena "La Maquinista" New custom lamps manufactured by Dajor

MELIÁ HOTEL ON AMERICA AVENUE

After a few months of renovation, the prestigious hotel Meliá, located on América Avenue in Madrid, has reopened its lobby with a custom lamp made by Dajor Lighting Factory.

For the reception of this hotel, we manufacture a large hanging ceiling lamp. The luminaire is made with a metal circle that houses two LED strips, one placed at the top of the lamp and another at the bottom. Brass and glass sheets are placed around the metal circles. The lamp creates a very elegant and stately light effect. The glass and brass sheets act as a diffuser for the warm light of the LED to create an original game of light and shadow that is complemented by the reflections of the light on the light floors and the LEDs placed behind the counters.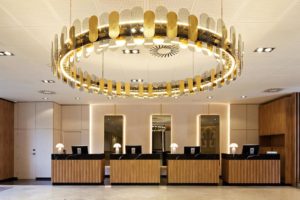 VIENA RESTAURANT "LA MAQUINISTA" IN BARCELONA
The Viena Restaurants franchise has opened its eighth restaurant in Barcelona and the number 50 in total, and as on other occasions, it has had the professionalism of Dajor Lighting Factory to illuminate its new location in the "La Maquinista" shopping mall.
We make a very special custom lamp for this restaurant, it is the ROUND model, a hanging ceiling lamp made of a circular metal structure in brass surrounded by a multitude of crystals in different colors: yellow, pink, orange, red, blue, violet … The lamp It is hold to the ceiling by means of tension cables attached to a subjection. The luminaire works with very warm incorporate-LED strips to create a comfortable and cozy atmosphere ideal for enjoying a meal and a long tabletop. The colored crystals complement the decoration and match the indigo walls and the red chairs, creating a harmonious and original design that also passes through the Chester and the black and white tiles.